How Small Business Can Squeeze the Most Out Of Health Benefits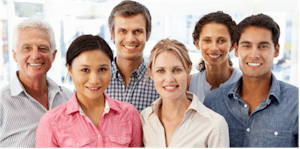 It wasn't that long ago that small companies in California were at a distinct disadvantage when securing business health benefits for their employees. That has changed significantly and for the better.
Small Companies now have a range of different options that they can take advantage of to offer richer benefits at less cost..and not a moment too soon.
Small companies have been squeezed for the past decade with:
double digit sequential rate increases
benefit downgrades and compression
increased paperwork and documentation
and finally, new mandates and penalties under the ACA health law
Many small companies have thrown up their hands and cancelled business health coverage altogether but that puts them in a competitive disadvantage.
How does the current health benefit landscape offer small companies the ability to offer coverage without breaking the bank?
Let's first establish two main segments within the category. Officially, small business is 1 to 50 employees and it will soon be 1-100 employees (ACA health law change).
There may be different strategies for companies under about 15-20 employees and those over. Let's evaluate why.
For smaller companies below say 15 employees, it generally makes sense to have a full y insured plan. These are the traditional plans that most companies (and employees) are familiar with. There are still options within this segment (such as HSA or HRA) which allow a version of partial self-funding. Let's look at this smaller segment first.
Employers with 1-15 employees.
Defined Contribution. First, the best approach for the core benefits (medical and dental) is Defined Contribution. This allows an employer to establish a budget and tie it to a baseline plan or fixed dollar amount.
Basically, "the company will pay up to X towards your choice of plan"
The employee can then choose from any of the allowed plans (can mix/match HMO's, PPO's, HSA's, etc).
This allows the best outcome:
Employer caps and knows monthly exposure
Employees can choose coverage that fits their health needs and budget
Design has a built-in persuasion to contain costs since employee shares cost
Network flexibility allows employees to keep doctors/hospitals of choice
We really are able to offer large group "cafeteria" style benefits to small companies with downward rate pressure. The real strength of this approach for small business is employees are much less likely to complain or have negative reviews of their health benefits when they have a say in the plan and cost. Choice is everything and it may even same the company money (healthy employees may opt for lower cost options because they can save money on the premium share).
We can offer this style of employee choice and cost control with any of the major carriers now.
You can quickly receive your full quote across the carriers here.
What if you have a larger "small Business"...say 20 employees and up?
It may not feel very small at all to manage but we have some great small business benefit options and external process tools to provide the best value in benefits and the simplest ease in managing employee onboarding, hr, benefits, and more.
We'll bread this up into two parts.
What health benefits work for the larger small business
In addition to the "mini-Cafe" option we mentioned above for the smaller businesses, there is a significant option we can also quote and compare.
Consumer-driven health care and level self-funding
Large groups already take advantage of these options but we can now safely and reliably offer to smaller companies as well. There is a scaling factor at which point these work best and that's why we want a slightly larger employee base in which to implement these options. Let's get right into.
Consumer-Driven Health Care
This essentially involves offering the employee a higher deductible plan with some funding component built into. This is generally accomplished with an HSA or HRA account that the company funds (with premium savings versus richer plans). The employee then has a built-in incentive to better manage not only their health care but their health as well. The un-used funds in these accounts can become similar to retirement accounts that the employees build over time. Again, the goal is to contain the cost curve so that employers can continue to offer benefits 2, 5, 10 years out.
Partial Self-Funding for Small Companies
A similar but different take on this approach is through self-funding. In this approach, the insurance carrier provides a stop gap insurance plan (think high deductible for the larger bills). The employer then funds or pays for the smaller bills according to a benefit design of their choosing. There can be significant savings in doing this versus a traditional, fully-insured plan.
The reason a larger smaller business works best with self-funding is that we want to spread the risk among as many people as possible to get the most possible savings.
Cigna has come out with a great vehicle to use for self-funding that allows two different funding options. One provides more rate stability (less risk, less savings), while the other allows more potential savings but more rate movement during the year. The first (level self-funding) has been the most popular.
Tools to make managing small business employee benefits a breeze
Finally, small business benefit management has entered the digital age. We are proud to offer a free service to companies that includes the following:
Simple, online and cloud-based employee onboarding and benefit management
Integrated payroll for one-stop on and off-boarding of employees
Online HR system with compliance support
Benefit management with one-click access to benefits, rates, and online enrollment
Small companies are already stretched with the owner or another employee begrudgingly taking the hat of HR professional during off-hours. Our online system (which is free to you) will make this process easy, online, and transparent. We pay for it on our side for our companies so there is no cost to you.
There is also no fee for services as licensed California business health insurance agents with 30 years combined experienced in the California group market.
How To Start the Process
We do all the heavy lifting. After a 10 minute completion of the Quote census below, we will put together a comprehensive quote of the plans available for Small Businesses including Tax Credits if available.