Quick Introduction to New Covered California Marketplace?
We have written extensively on the most asked questions with great detail (GURU section) but it's best to first get a mile-high view of the new health insurance landscape before becoming overwhelmed. This introduction is that.
Let's jump in.
Bullet Points of New Marketplace:
Coverage is guaranteed issue regardless of health
Most existing individual/family members will had to move Jan 1st, 2014 to new plans
Nov 1st through Jan 31st is open enrollment window
Plan benefits are now standardized with 4 distinct "levels of benefits"
Benefits and Rates are identical for in Exchange and off Exchange plans
Subsidies based on income levels are only available in the Exchange
There is penalty for not purchasing health insurance
Those are the broad strokes...let's hit the pertinent information of what you should do now.
Establish if you might be eligible for a subsidy, Quote/Enroll Exchange plans if Eligible
Take a look at the grid below.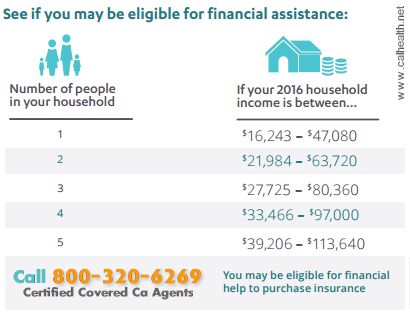 If you're expected gross income for this year will fall under 400% of the Federal Poverty Level, you want to apply for Exchange coverage by following these steps:
Run your on-Exchange quote here (select On Exchange plans)
Contact us with any questions on plan selection, eligibility at 800-320-6269 (our service is free to you)
Enrollment takes 5 minutes over the phone!
The online app is still difficult to navigate and we expect that to continue for some time.
We're happy to help walk you through the online app as we are Certified Exchange Agents. If you feel adventurous and want to use the online CoveredCalifornia site, contact us and we'll walk you through it.
This can save a tremendous amount of time.
If you do not feel that qualify for a subsidy..
Quote and Enroll in a off-Exchange health plan if not subsidy eligible
The enrollment process in the Exchange is much more involved (akin to tax filing) since income and other eligibility requirements are required. The Exchange app is about 38 pages and the off-Exchange app is about 5.
Plan benefits and rates are identical and there may even be additional plan options off-Exchange.
For this route, follow these steps:
Run your off-Exchange quote here (select off-Exchange plans)
Contact us with any questions on plan selection at 800-320-6269
Complete the online application available through the link by your chosen plan

Hopefully this helps provide you some direction of how to proceed. We are licensed agents focusing exclusively on California health insurance for almost 20 years and with 10's of 1000's of Californian clients.
Let us help you navigate this change.

Related Pages: 10 Invaluable Tips to Successfully Comparing Covered Ca Plans