California health insurance
- 2018
oscar health in covered california
Oscar Health in Covered California Review, Rates, and Plans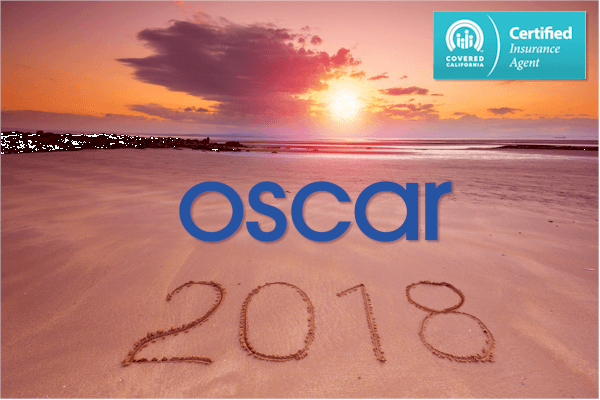 There's a new kid on the block.
For health insurance, really new.
Oscar Health is looking to "disrupt" health insurance the way Silicon Valley has done to rentals, ride sharing...you name it!
Health insurance could use some disrupting.
We've focused on health insurance for almost 30 years and it moves at a glacier pace.
Oscar's goal is to bring it into the internet age and use this efficiency to make it cheaper.
We can all get behind that goal.
The fact that Oscar adopted the Covered California marketplace suddenly made it relevant.
There are big, entrenched carriers in California.
It's hard to make a name against Fortune 500 companies.
Covered Ca leveled the playing field and now Oscar is a contender.
Let's look at them in more detail along these lines:
Let's get started.
---
2018 Oscar Changes
This could be the year that Oscar breaks out in California
When we run quotes for people (especially losing Anthem), Oscar is coming back as the best priced (or within top 2-3).
They're even priced better than a lot of the HMO's which is impressive.
They can be significantly lowered priced than Blue Shield's PPO.
The PPO is more flexible than the EPO for out of network (see difference here) but today's PPO does not pay much for out of network unfortunately.
For this reason, we're seeing a lot of people move to Oscar for 2018.
Since the benefits are the same, it really comes down to doctors and hospitals.
UCLA is usually the deciding feature.
Oscar participates with them.
That has been a deciding factor in the past for Anthem Blue Cross EPO or Blue Shield PPO.
When you run your quote here, you can check providers listings for any plan.
---
Oscar health rates under Covered California
Where does Oscar stand in terms of rates in 2018?
Really Good!
The average increase for Covered Ca plans is 12.5%.
Los Angeles county (where Oscar is strong) is showing a wider increase on average.
Oscar actually is the only carrier with some decreases!
Only carrier in the State.
In any area!
This is on certain plans and census information (age, area, and plan selection) but still.
It's a big deal with increases across the board for four years running.
The general 2018 change is running -13% to 24% depending on plan, age, and area.
You can quickly run your Oscar Covered Ca quote to compare their rates to other carriers.
It's important to compare them to PPO/EPO style plans since there are just a few of those left now.
With Anthem Blue Cross leaving Los Angeles county, Oscar will be a strong candidate for these members.
Read below under networks to understand why.
We're seeing Oscar's EPO come in price-wise the same or better than the local HMO's!
The best comparison for Oscar's rates would be Blue Shield's PPO plans.
Health net also has a PPO in select areas but it's a narrow network plan.
Shield is the better comp for Oscar health's EPO in terms of rates.
One note...Oscar has this cool steps tracker where you can earn up to $240/year in rewards for meeting steps goals. Pretty cool!
Run your Oscar Covered Ca quote here:

Let's look at Oscar's plans in Covered Ca.
---
Oscar health plans available in Covered California for 2018
Oscar is offering the full suite of plans available through Covered Ca:
Catastrophic plan (age 29 and under)
Bronze 60 Oscar plan
Bronze HDHP Oscar plan (HSA compatible)
Silver 70 Oscar Plan
Silver 73 Oscar Plan
Silver 87 Oscar Plan
Silver 94 Oscar Plan
Gold 80 Oscar Plan
Platinum 90 Oscar Plan
Some key notes on 2018 Covered Ca plans (including Oscar)
The benefits are standardized by law.
This means that a Silver 70 plan from Oscar has to have the same benefits as a Silver 70 plan with another carrier.
This makes it easier to compare.
The Catastrophic plan rarely makes sense since tax credits will not apply to it.
Go with Bronze for catastrophic if you're eligible for a tax credit.
The Silver 87 and 94 are ridiculously rich plans.
If you qualify for them based on income (income dictates which version of Silver you are offered in Covered Ca), look no further unless you just want the lowest priced Bronze plan.
Use the PlanFinder tool for a step-by-step walkthrough of the plans.
It will address 95% of your plan comparing questions.
Of course, we're here to help and as Certified Covered Ca agents, our assistance is 100% free to you.
If the plans are the same, what separates Oscar from the other carriers?
Let's look at network for 2018 and beyond.
---
The Oscar Health Covered Ca Network of Doctors
This is where Oscar will shine in 2018.
Anthem Blue Cross is leaving the Southern part of California and their EPO was the only want to get to some high profile doctors and hospitals.
We are now down to two really...Blue Shield's PPO and Oscar's EPO.
For example, these are the two plans accepted by UCLA.
That's a big deal in Southern California.
You can get more detail here on the difference between PPO and EPO.
Basically, the EPO works like a PPO but with no benefits out of the network other than a true emergency.
Oscar is offering the EPO version.
We've dealt with PPOs and EPOs for years and they don't feel that different these days.
Mainly since PPO's pay so little out of network these days.
The network is smaller so it's real important to make sure it works for you.
You can check doctors and hospitals through the quote here:

The main draw is UCLA in Los Angeles.
Here's our recommendation.
If you want an EPO/PPO style of plan in Los Angeles, run your quote.
Compare Blue Shield PPO and Oscar rates.
Once you run the quote and compare like plans (i.e. Oscar Bronze 60 to Blue Shield Bronze 60), look at the provider search below each plan to see how they work.
All the Oscar plans will use the same network so you only need to check one plan.
We expect Oscar to continue to grow their network especially in light of Anthem leaving the area.
---
Is Oscar available in Covered California?
Yes!
They fully embraced the marketplace in 2014 and that has been the great equalizer against much more entrenched carriers (Kaiser, Blue Shield, or Anthem Blue Cross).
If you're eligible for a tax credit based on income, getting Oscar through Covered Ca is the only way to get this tax credit.
Many people are eligible for this tax credit so make sure not to lose out on it.
We're happy to see if you qualify.
If you enter your household size and income estimate in the quote, the system will automatically show your tax credit.
Make sure to select "on-exchange" for the quote type.
---
How to Quote Oscar through Covered California
Very easy.
Quoting Oscar in Covered California
Select "on-exchange" to get Covered California's options
Enter basic census info (date of birth and zip code) for basic quote
Enter household size and income estimate for tax credit inclusion.
Use PlanFinder tool for step by step guide to comparing the plans
That's it.
You can see all the plans and rates including Oscar with Covered Ca!
What about enrolling?
---
How to Enroll in Oscar through Covered California
It's fast, easy, and online.
How to Apply for Oscar in Covered California:
Complete secured app
Receive 4 ID questions in 24 hours by secured email or upload picture ID
Receive confirmation generally in 24 hours from completed application
Receive written confirmation from Covered Ca about 5-7 days following
Receive 1st invoice by mail about 5 days after Covered Ca confirmation
That's it.
We will also make sure your application is processed correctly and let you know if your income is close to a tax credit or enhanced Silver threshold.
This can make a huge difference.
---
Is Oscar health cheaper under Covered California?
By law, every plan has to have the same price, network, and benefits whether on or off exchange.
This means a Oscar Gold plan will be priced the same on or off exchange.
The only place this is different is with the Silver plan if we DON'T qualify for a tax credit.
Off-exchange might be cheaper. You can quote both here.
That being said, if you're eligible for a tax credit, we can only get it in Covered Ca.
---
Is Oscar Health Good Insurance?
Oscar may well be the future of health insurance.
They are very easy to deal with which is refreshing in health insurance.
It comes down to this"¦
Check their pricing to see how they compare with Blue Shield PPO.
Then check their networks to make sure you like the doctors.
They really focus on their "concierge" approach.
This means they have a "curated" provider search where a representative will help guide you through the process.
Pretty cool if you're trying to navigate a health issue.
---
Oscar Health Review
2018 could be a breakout year for Oscar health.
With Anthem's EPO leaving their core area, that leaves Oscar and Blue Shield.
Pricing will be in Oscar's corner especially with some of the rate decreases (that's not a typo).
There is a real focus at Oscar to re-invent health insurance so you have more tools at your disposal.
The healthcare has been a bit of flying blind till now.
Oscar is adding visibility to cost, care options, and patient history via their online tools.
We'll see if this translates to better outcomes and ultimately, better costs.
That's the lifeblood of a health carrier in terms of surviving the current environment.
We're excited to see if Oscar can "disrupt" health insurance for the better.
Lord knows the industry needs it!