California Medicare Options
- How to Save on Part D RX Plans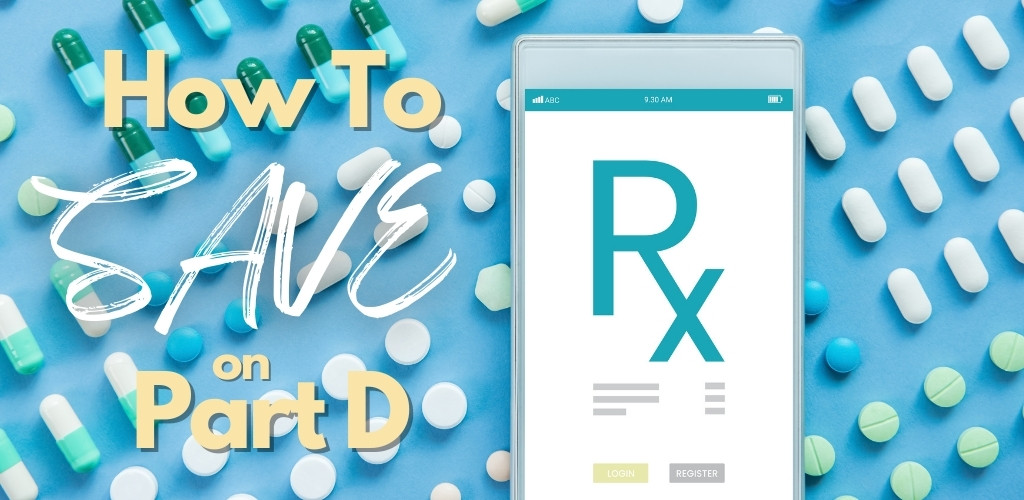 Top 6 Tips to Save on Part D RX Coverage

It's interesting...about as much thought goes into Part D plan selection as with medigap coverage.
That speaks to just how important (and potentially expensive) medication coverage is these days.
As we'll see below, the monthly premium is not nearly the most important piece to the decision making!
Let's go through the biggest mistakes we see with people picking their own plans OR getting recommendations from some carrier or broker.
Here's the top 6 list with a few general guidelines around Part D selection:
Enter your meds exactly

Add your chosen pharmacy and check pricing!

Focus on the total annual cost

Don't forget the Star Rating

Avoid the 1% per month ever-increasing penalty

Select Part D carrier independently
Let's get started! 6 Steps to potentially save your $100's if not $1000 each year.
As for our credentials:
First, a quick intro to Part D for people new to Medicare
Part D is the stand-alone private plan that you can purchase to cover medication expenses.
Advantage plans generally cover Part D (we avoid the ones that don't unless you have RX coverage somewhere else).
So...Part D is for people who have traditional Medicare and/or medigap plans. Learn more on how to save on Medigap plans here.
Part D follows the Annual Enrollment guidelines in that you can enroll, cancel, and change plans at the end of each year (Oct 15 - Dec 7th for a Jan 1st eff date).
This means we can change plans each year regardless of health or medication cost!
You pay a monthly premium for Part D coverage to a private carrier (not to Medicare) and the plans generally have the following structure:
Deductible - you pay this amount first for certain classes of medication before getting help from the carrier

Copays - you then start paying copays at different levels depending on the class of drug

Coverage Gap - amount you pay can shift but discounts can make offset this

Out-of-pocket - for really high RX costs, you then start getting more help
Rather than keep track of all this, our quoting system below will take into account all of this for you!

Of course, you can reach out to us with any questions at help@calhealth.net
Okay...let's get to the real nitty gritty.
Enter your meds exactly
When you run your quote here, select PDP (Part D Plan).
You can then enter your medications so that the quote system will take them into account.
It's important that you list exactly what you have.
Some people will use a generic name but they really have a brand name (or vice versa).
This can really affect pricing quite a bit (hint hint...check with your doctor if there's a generic available since you're paying the cost).
You'll see the box through the quote on the left side: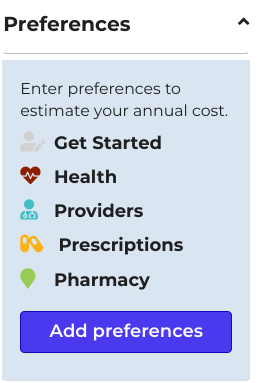 Click on "Prescriptions" and add your meds.
Exact dosages and quantity are also very important to get an accurate quote.
As we'll see below, the monthly out-of-pocket can be the biggest determining factor by far in cost!
So...
Medication exact names

Dosages

Quantity
We can run the quote for you if you like with your zip code and list of medications at help@calhealth.net
Next up...location location location
Add your chosen pharmacy and check pricing!
Most people don't think twice about the pharmacy they go to.
"I use CVS...it's right around the corner".
The pricing difference by pharmacy for the exact same medication can be ridiculous. Obscene really.
In that same box above, you'll see "Pharmacy". Test a few around you to see if it changes the plan ranking and pricing.
You may be surprised and we typically see differences of a few $100's when we run the exact same list of medications for people.
Also, some Part D plans have special relationships with certain pharmacy chains.
You'll see it right in the names such as AARP UnitedHealth Walgreens.
This means that you'll get preferential pricing (generally) when you use Walgreens with that plan.
Expect more and more of this "pairing" coming up between big carriers and big pharmacies. It's the future as they all jockey to gobble up customers in this market.
So...our meds and pharmacy are entered.
Now...how do we actually compare these options?
Focus on the total annual cost
Monthly premium doesn't matter nearly as much as the actual estimate cost for out-of-pocket monthly.
Our quoting system will calculate this for you!
At the top, flip the setting from premium (low to high) to Total Annual Estimated Cost
Now this assumes that you already have some medications. If not, the system will just show lowest monthly premium which is fine.
I put a few meds (let me guess...some cross over?):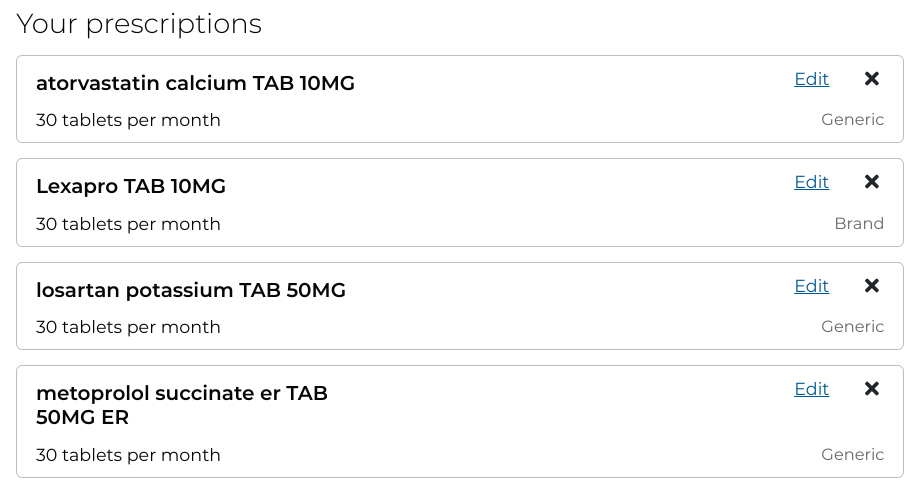 I added the closest CVS pharmacy.
Now...we get some results: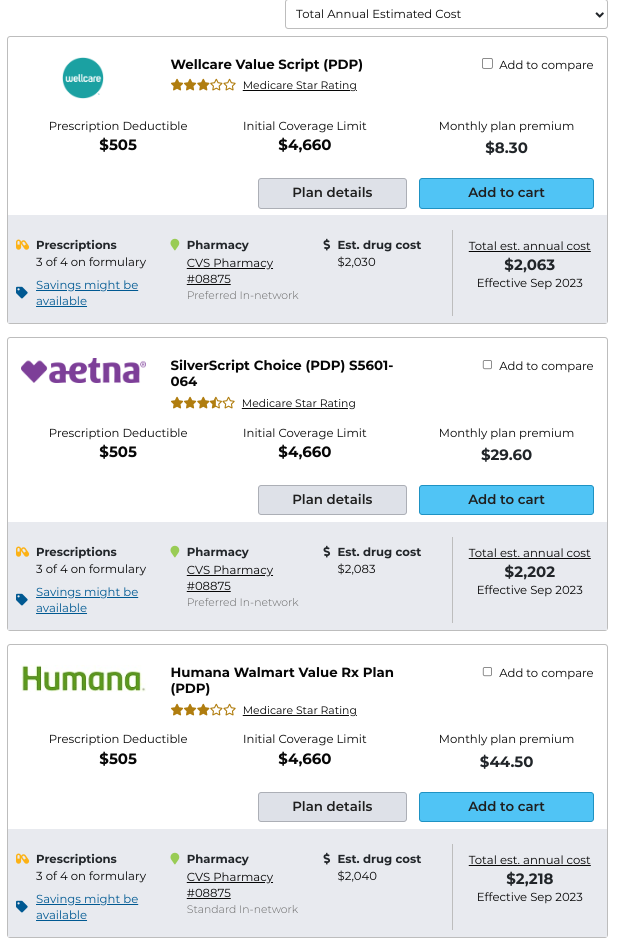 The top 3 are Wellcare (tied to HealthNet), Aetna, and Humana.
Pretty common actually.
Zero in on the "Total est.Annual cost" bottom right of each box.
This takes into account your monthly premium + estimated out of pocket costs for the medications you entered.
One note...the system will automatically show you this estimate for the remainder of the year.
Meaning...a full year's worth (say at open enrollment) might give completely different results!
Probably will in fact.
We need to run this every open enrollment to make sure we're not overpaying in the new year!
This quoting system is always available to you and there's zero cost for our assistance!
Okay...let's use the example above to fine tune our quote.
Don't forget the Star Rating
So...in the case above, should we just go with Wellcare as the lowest estimated cost?
Maybe. But...look at the Star Rating.
Wellcare's plan is 3 star. Aetna's SilverScripts plan is 3.5 stars.
That ½ a star is actually a big difference.
The Star Rating reflects how happy people are with the plan. It's on a scale of 5 stars with 5 being fantastic.
3 Star is so so.
Why does this matter if our meds are covered at the lowest cost price?
It reflects difficulty in dealing with the carrier around your benefits!
This can getting approvals on drugs.

It can how easy they are to work with.

It can be fighting with the carrier about quantity, changes, etc.
It's a general review on how easy the carrier is to work with in order to get your medications covered and paid for.
In that case, we might actually look at the Aetna plan for the extra (roughly) $12/month in premium.
Now look at plan #3. Humana Walmart.
What if we flip the pharmacy from CVS to Walmart?
That's why the pharmacy selection (and even shopping) can be really important if you have many options around you.
Again, we can easily run these quotes for you. Just need zip code, date of birth, and the prescription/pharmacy info to help@calhealth.net
We'll quickly narrow down the best values and send over the quote which you can edit and change as needed.
We work with some of the biggest Part D plans and carriers in California!

A few housekeeping points that results in lots of people overpaying for Part D.
Avoid the 1% per month ever-increasing penalty
The general rule is this:
If you don't enroll in Part D specifically within a certain period when you're eligible for Part A and/or, you may be accessed a 1%/month penalty that increases every month!
So...after 12 months, your Part D rate (for any plan) will be 12% higher. Forever!
Some people get Medicare and think, "I'm healthy...I don't have any medications".
The whole point of insurance is the "big what if".
Worst case, get a "placeholder plan" at the lowest monthly premium when eligible to avoid the penalty from building.
In the example above, it would be the $8/month Wellcare plan.
You'll also get some level of RX coverage (especially on the catastrophic side in case) in the meantime.
One medication can pay for the premium since the Part D plans have significant discounts just for being in-network and having coverage versus paying cash at a pharmacy.
Again, that penalty makes zero sense. Enroll when eligible and at least get the placeholder plan at the lowest monthly premium.
Finally, a big cause of overpaying we see all the time.
Select Part D carrier independently
If we run a medigap plan quote here, typically the best priced plans for a given plan (say the most popular G plan) is AARP, Blue Shield, or Anthem.
It can rotate depending on age and area but those three generally run the roost.
You'll notice they didn't pop up in our Los Angeles Part D quote above.
Most people will say..
"I got my Medigap with Blue Shield...I'll just get the Part D with Blue Shield. I don't want two bills".
Goodness, that's an expensive little save of paperwork.
The Part D plans that dominate the market in terms of value are very different from those that dominate medigap coverage.
It's completely fine to have a medigap plan with one carrier and a Part D with another.
The Part D enrollment is actually pretty easy and all online now.
Once you're in the system, changing plans at the end of each year is even easier.
Don't overpay because you want one monthly bill and don't assume that a carrier who is really good at medigap (AARP, Blue Shield, and Anthem) are equally good at Part D.
That's just not the market! Shop Part D separately and we provided all the tools to make this fast, easy, and most importantly...affordable!
Reach out to us with any questions of course!

You're now a total pro in quoting Part D options with the insider knowledge from 25+ years in the California senior market.
Now go save!