California health insurance
-
Covered California
- 2017 Open Enrollment
2017 Covered California Open Enrollment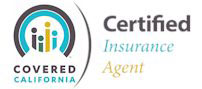 It's that time again!
Health insurance is officially in open season again for 2017 and there are big changes.
It's almost mandatory to re-evaluate the health plans, rates, and tax credit estimates!
First, let's get through some of the basic detail and then look at how to potentially lower your monthly health premium!
---
The How, When, and Why of Open Enrollment for 2017
2017 window start/stop dates
Officially, open enrollment is scheduled to run from Nov 1st through Jan 31st.
Check back with us as these days (especially the end date) have been known extend.
Effective Dates
The same rules apply.
The earliest available effective date is Jan 1st (unless you have a Special Enrollment trigger) even if you enroll Nov 1st.
You must enroll by Dec 15th in order to get the Jan 1st date.
Otherwise, the next available date is Feb 1st.
Here's the 2017 effective date rule:
If you enroll by the 15 of a given month, you can get the 1st of the following month.
If you enroll after the 15th, you get the 1st of the month following the next month.
Example:
You enroll Dec 15th. You can get Jan 1st
You enroll Dec 20th. You can get Feb 1st
IMPORTANT: A loss of qualified coverage will allow you to get the 1st of the following enrollment REGARDLESS of the day.
Okay...so the take away is to enroll early in order to get your requested effective date.
We can enroll you right over the phone at 800-320-6269 and provide you a confirmation by email in 1 business day. As Certified Covered Ca agents, there's no cost for our services.
What about the Tax Credits and Rates?
---
2017 Covered Ca Rate Changes
The expected average for rates is 13% for the State of California.
Each area will be different but that's the average.
So that's the bad news.
Here's the good news...
If you qualify for a tax credit, you will likely feel very little (if anything) from this rate increase!
The law was designed to cap your share of health insurance premium at a certain level regardless of the total cost.
If the rate goes up, your tax credit will likely go up.
The tax credit is more important than ever for that reason.
Let's look at that piece now!
---
2017 Covered Ca tax credit
The tax credit is tied to the Federal Poverty Level which goes up a bit each year.
Here are the new amounts for 2017!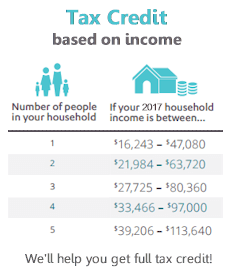 Of course, the tricky part is always the income estimate.
You need to estimate your Modified Adjusted Gross Income for all of 2017 (what you plan show on line 37 April of 2018).
The "Modified" part adds in foreign income, tax-free income, Social Security, and a few less common items.
We really want to get this right but it's very difficult.
50% of the self-enrolled people we come across have major errors here.
That's why it makes sense to call us as Certified Covered Ca agents (free service to you).
We can help you narrow down the best 2017 income estimate in 5 minutes usually.
We'll save you a ton of time and potentially, a ton of money.
---
2017 Covered Ca Tax Penalty
The credit isn't the only thing changing.
The penalty keeps going up!
Here's the detail for the 2017 penalty for not having qualified health insurance.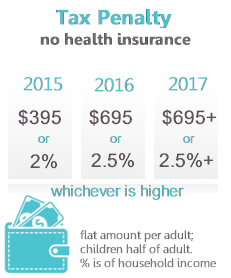 If you make $40K, that's over $1000 in tax penalty.
We get calls all the time after April where people are frantic to enroll but they can't because open enrollment has closed.
If you qualify for a tax credit or just need help figuring out if you, call us at 800-320-6269.
We can see if the penalty basically pays for the premium!
As before, you're allowed a 2-3 month gap in coverage without the penalty but you need to request a hardship waiver for this.
---
2017 Covered Ca Announced Changes
Okay...a few big items to cover for 2017.
United is leaving the individual/family market including Covered Ca eff 1/1/2017.
If you have an existing United individual plan, you'll need to change plans.
The new rates will be loaded in prior Nov 1st for full quoting!
If a United enrollee does not change plans, their coverage will simply end Jan 1st. Not good!
For 2017, the core carriers are still participating. Some carriers are adding a county here or there that they are adding.
You simply need to enter your zip code to see all the carrier and plans available to you in our 2017 Covered Ca quote engine.
You can also quote off-exchange plans but keep in mind that the rates and benefits are mandated to be the same.
2017 Benefit Changes
There are minor tweaks from year to year with the core Metallic plan benefits.
We'll list those here as they are announced.
The core benefits are the same with the same 10 Essential Health Benefits being covered.
The plans are also standardized in California so a Silver plan is a Silver plan regardless of carrier.
Which brings us to what is Different!
---
Plan shopping tips for 2017 Open Enrollment
Okay...so how do you compare the new options?
First, feel free to give us a call at 800-320-6269 and we can quickly scan the full marketplace for you.
There's no cost for our services.
We'll first see if a tax credit is available and for how much. This means fine-tuning the income estimate...which is invaluable!
We can then see all the plans and compare the new 2017 rates against each other.
We'll further consider doctor/hospital choice because....and here's the secret.
The network differences are really what changes from carrier to carrier!
It's a huge deal.
You can't just look at the premium difference in Covered Ca and have a good representation of how the plans will actually work differently.
There are big differences in provider networks from carrier to carrier.
Big enough that it needs to be considered seriously along with premium.
So premium and network differences...that's what we really want to focus on.
We can help you with both comparisons.
We've enrolled 1000's of Californians in Covered Ca since 2014...in fact, we're in the top 100 enrollers for the entire State (out of 10's of 1000's)
Our services are free to you. Call us at 800-320-6269 or get your instant quote (with tax credit) here!
How can we help make 2017 Open Enrollment a smashing success??
Again, there is absolutely no cost to you for our services. Call 800-320-6269 Today!