California health insurance
- 2018 Covered California Open Enrollment
2018 Covered California Open Enrollment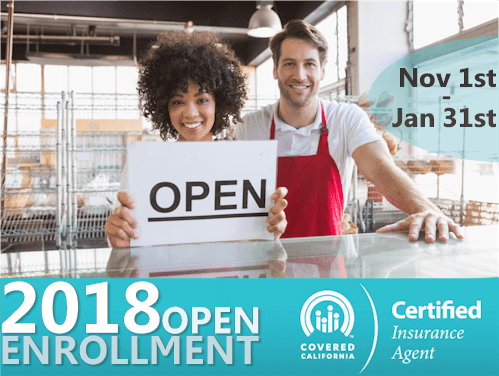 It's that time!
Some things are staying the same.
But there are big changes coming for 2018!
As Certified Covered California agents, we'll give you the inside scoop on changes, options, and opportunities.
You can always quote Covered Ca plans with tax credit calculation here:

One note...the new 2018 rates will show starting Nov 1st.
Let's break up the Open Enrollment Guide into easy sections:
Let's get started!
First, we'll start with what's new.
---
2018 Covered California Open Enrollment Changes!
Anthem leaves part of State
Rate changes
Income changes for tax credit
Penalty changes
Enhanced Silver benefits at risk??

We'll update as info comes in!
---
Anthem leaves most of California individual/family market in 2018
Okay...let's start with the really big one.
Anthem Blue Cross is leaving big swaths of the State starting Jan 1, 2018 for Covered Ca.
This also applies to their off-exchange plans as well.
For existing members, they will have to switch carriers and plans if affected.
You can find more information on Anthem's notice to leave California in 2018 HERE.
Basically, it means that many Californians both in Covered Ca and off-exchange will have to pick a new plan!
Anthem's most popular plan type by far was their EPO plan.
The only real alternative to this on the market in 2018 is Blue Shield's PPO.
It's a pretty good alternative!
One...the PPO is better than the EPO.
Shield has ramped up their network to bring on many of the big hospitals and they are becoming the defacto PPO carrier in the State now for individual/family coverage.
This will bring more doctors!
Especially when Anthem leaves in 2018.
Run your quote for Shield and other carriers available.
We're happy to help you understand the options available and make sure you get the most tax credit available.
As Certified Covered Ca agents, our assistance is 100% free to you.
---
Rate Changes for 2018 Covered California Open Enrollment
Surprise!
Rates are going up in 2018
Before we scream, just a reminder!
If you're eligible for a tax credit (will show when you run your 2018 health quote),
The tax credit is designed to go up with the rates!
It's not always an exact match.
One person's net cost will go up while another's might actually go down.
The main point is that the tax credit increase should eat up most of the rate increase.
Starting in November, you'll be able to see the net rates for your situation and we're happy to help you compare the options.
The average rate increase for 2018 is 12.5%
That only matters if you're the average.
It's important to run your quote starting Nov to see how your situation is affected.
For example, PPO/EPO plans with the Blues may have a different profile completely and for some people, they need this coverage to keep their doctor.
There are many lower priced HMO's on the market which many people can't use to see their desired doctors.
---
How to shop the 2018 marketplace
There may be some hard decisions coming up.
Especially for Anthem Blue Cross members in the affected areas.
There are really three ways to offset rate increases:
Change plan levels
Change carriers
Change network
Let's look at these in detail.
---
Change plan levels
As with any open enrollment, this is the time to shop the market.
Bronze, Silver, Gold, Platinum...what's the best for you!
This is such a complicated question that we created an entire PlanFinder system here:

This tool will walk you through the questions we walk through 1000's of times every open enrollment.
Literally...1000's of times!
It gives you our 30+ years of expertise analyzing health insurance needs with clients.
And it takes as little at 15 minutes.
Of course, we're happy to walk through the plans with you at 800-320-6269 or by email.
Our services are 100% free to you.
Starting Nov 1st, you can run your 2018 Covered Ca rates here:

We also have an article on how to shop Covered Ca plans with further insight.
---
Change health carrier for 2018 Open Enrollment
If we can to keep the same level of benefit (Silver for example), we have have to look at a change of carrier.
There are many regional HMO's now that are well-priced.
SHARP. Western Health Advantage. LA Care. Molina.
The cost difference for these carriers can be significant.
Even against the HMO's from the Blues.
Anthem EPO members will probably have to move to Blue Shield's PPO to have any semblance of the same coverage (may actually be better!).
The first item is to ask what "Covered California" carriers your doctor participates with.
When you run your 2018 Covered Ca quote, you'll find a "Provider search" under each plan.
You can also ask your doctor's office.
We will have a 2018 Carrier Comparison soon with updated information!
---
Change 2018 Health Plan Network
Every open enrollment, we have to re-evaluate the networks.
Even more so for 2018!
Let's look at the big issue...Anthem leaving most of the market.
Most people who picked Anthem Blue Cross chose their EPO plan.
More info on EPO versus PPO here.
The closest equivalent plan to this is the Blue Shield PPO plan which is still available in most areas of the State.
In fact, Covered Ca will likely auto-renew the Anthem members losing coverage directly to the closest equivalent plan with Blue Shield PPO.
We recommend this as well.
In terms of pricing, it may be cheaper. It may be more expensive.
Every area was different.
Health Net may offer a PPO in parts of the State but Shield is the strongest network for this type of plan in 2018.
---
Change to HMO in 2018
Another consideration is a move from either EPO or PPO to HMO.
There are many strong, regional HMO's that have good providers.
SHARP down south.
Western Health Advantage in the Bay Area and Sacramento.
Both have great providers.
LA Care and Molina are also priced well but with smaller networks in Los Angeles.
The question is whether getting a richer plan with a smaller network for the same price as a less rich plan with a smaller network is more advantageous to you!
We can help with this comparison.
Our services are 100% free to you as Certified Covered California agents.
---
Income Changes for 2018 Tax Credit
Each year, the income ranges for tax credit adjusts according to inflation and the Federal Poverty Level.
Here are the new levels: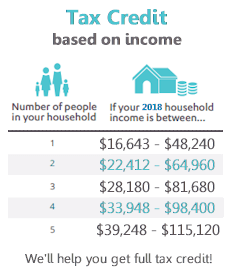 A few notes...
If you were just over the limit separating Medi-cal from the Silver 94 (number on left side), you may need to evaluate your income estimate or the system will probably automatically switch you to Medi-cal.
It's best to do this before Open Enrollment so you're not caught up in that system change.
Also, you may find you're now eligible for a tax credit for 2018 income estimate.
This is a great time to re-evaluate your income estimate.
We can adjust income any time of the year for you.
If there's even a chance you'll qualify for a tax credit, we want to make sure you're enrolled through the marketplace.
Access to 2018 Covered California simplified application here.
The rates, benefits, and networks are the same in or out of network so it makes sense!
We can help with that whole process.
We created an entire Guide to the 2018 Tax Credit here.
You can see your expected 2018 tax credit through the quote below:

---
2018 Penalty Change for Not Having Health Insurance
We get this question all the time..
"Is there a penalty anymore?"
The answer is "Yes".
It's still on the books.
Earlier in 2016, there were news stories that the new administration had instructed the IRS not to process the health insurance piece of the tax filing.
This would include the tax penalty.
That being said, quite a bit of tax penalty was collected in April so it's best to assume there is a tax credit.
Here's the detail for that: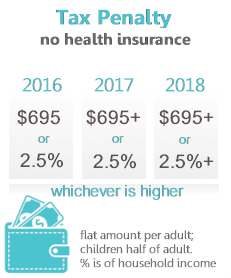 ---
Enhanced Silver Benefits at Risk in 2018?
This is a big deal.
Basically, if you qualify based on income, you can get really rich benefits for the same price of the normal Silver.
This is the Silver 70, 87, and 94.
The last two being really rich plans.
A large number of people we enroll qualify for these enhanced Silver plans.
The current administration had threatened not to fund this part of the law.
As of now, it's still up in the air.
This won't affect pricing but will affect out of pocket exposure on the plans.
We'll keep you posted.
For now, assume we have the enhanced Silver plans.
---
2018 Covered California Updates
As we get new info, we'll continue to add them here.
Otherwise, we can expect pretty much the same for 2018.
We're here to help you since our assistance is 100% free to you.
Let's look now at some of the nuts and bolts of the 2018 California Marketplace Open Enrollment.
---
Open Enrollment will start Nov 1st and run through Jan 31st.
When you enroll can affect your effective date.
Here's the rule.
If you enroll by the 15th, you can get the following 1st of the month.
If you enroll after the 15th, you will get the 1st of the month AFTER the following month.
Loss of qualified coverage (such as employer coverage or Cobra) allows you to get the 1st no matter what.
The earliest Open Enrollment effective date will be 1/1 no matter what unless you're losing coverage and enroll during November (will get 12/1 eff date).
Here are some examples:
Enroll Nov 1st (not losing coverage) - Jan 1st eff date
Enroll Nov 1st (losing coverage) - 12/1 eff date
Enroll by Dec 15th (not losing coverage) - Jan 1st eff date
Enroll Dec 16th-Dec 31st (not losing coverage) - Feb 1st eff date

We can help you navigate this effective date question and plan accordingly.
Net net...
Enroll by 12/15 to get Jan 1st effective date!
If you're confused by this (it's confusing), just email us your situation.
---
What Can You Do During 2018 Open Enrollment?
A lot!
These are the main options during this time:
Enroll in a new plan with no Special Qualifier
Change Carriers and/or Plans
Change Income estimate for 2018 year
Change family member coverage make-up
Let's look at each of these.
---
Enroll in a new plan during 2018 Open Enrollment
If you have not enrolled or were not able to prior, you can get coverage now.
There's no health underwriting (can't be declined based on health).
Many people miss the open enrollment and have to enroll during this time.
If you do not enroll by Jan 31st, you'll have to wait until the next Open Enrollment unless you have a qualifying event (usually marriage, birth, move, or loss of qualified coverage)
---
Change Carriers and/or Plans during 2018 Open Enrollment
This is what usually happens.
People re-evaluate their plan options in the Covered Ca based on new rates and plans.
Each year, there are rate and plan changes that occur.
It's important to relook at the options and make sure you're on the best plan.
Networks can change as well with doctors leaving or joining networks.
Anytime after Oct 31st, you can run your online quote here:

We're happy to help with any questions at 800-320-6269 or by email.
Our services are 100% free to you as Certified Covered California agents.
You can find more on how to Compare Covered Ca plans in 2018 here.
---
Re-evaluate 2018 Income Estimate
Many people also take this time to look at their income expectation for 2018.
Things change.
Income streams change year to year.
It's important to take this into account as it affects your monthly premium and potentially your benefits.
You can get more information on how to calculate your tax credit income here.
This can get tricky!
Feel free to reach out to us for a walkthrough.
---
Changing Family Member Coverage for 2018
This is a good time to add/remove or change plans for family members.
Keep in mind that Covered Ca's definition of "household" is everyone that files together on a 1040 tax form.
If you're not going to claim an older child for 2018 (tax filing in April of 2019), Open Enrollment is the time to remove him from the Covered Ca household.
It's probably also the time to create a separate account for your child (new household essentially).
You can enroll for 2018 Covered Ca coverage quickly here:

---
It's roughly the usual suspects as in 2017.
We don't have any additions.
As we mentioned above, Anthem is leaving most of California outside of some Northern counties for 2018.
Here are the carriers participating in 2018:
Anthem Blue Cross (partially)
Western Health Advantage
Chinese Community Health Plan
Keep in mind that some of these carriers are regional and do not offer coverage in every area.
Blue Shield will likely be the only PPO option available in most areas of California.
The rest will either be HMO's or EPO's.
You can learn about the difference between PPO and EPO here.
Or between HMO and PPO here.
---
Each year at open enrollment, everything changes.
It makes sense to re-evaluate your options.
Any of these changes can prompt a review for 2018 Open Enrollment:
Plan rate changes
Core benefit changes
Family income (and tax credit) changes
Family health care needs
Doctor network changes

These are all good reasons to take a look at what's available.
Starting November 1st, you can quote the new 2018 rates and plans with tax credit here:

---
2018 Covered California Market Place Open Enrollment Wrap
A new year.
New options.
Lots of changes!
We get lots of calls from February to October with people who want to make changes but CAN'T!
It's tough with the Holidays being right smack in the middle of OE but don't delay.
It can affect your out of pocket expense for the rest of the year.
Definitely take advantage of our status as Certified Covered Ca agents.
Our assistance is 100% free to you. Seriously.
20+ years experience in the California health market with 1000's of enrolled members in Covered Ca.
And we wish a wonderful and healthy 2018 to you and yours!
You can run your 2018 Covered California health quote here to view rates and plans side by side from the major carriers...Free.
Again, there is absolutely no cost to you for our services. Call 800-320-6269 Today!