California health insurance
- Current catastrophic individual health plans
Current Catastrophic Plans for California Individual Health Insurance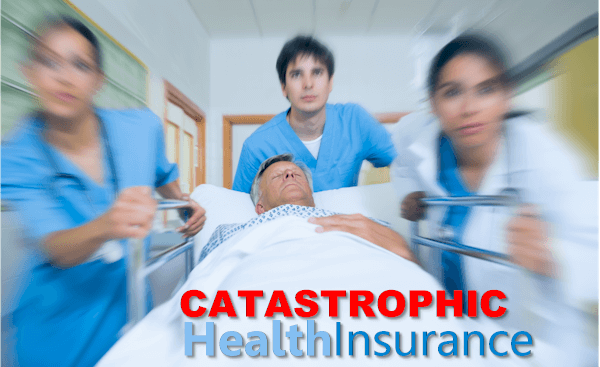 There was a time when a small percentage of the shoppers for California health insurance were looking for catastrophic or major medical coverage.
There was also a time (we promise) when health insurance was much less expensive than it is now.
You really didn't need to worry about having catastrophic only coverage then.
What a difference a decade makes.
Now, we're continuing a trend in which health insurance is quickly approaching catastrophic coverage by definition and it's not necessarily a bad strategy for health insurance in today's world.
Let's take a look at the current best options for catastrophic individual health insurance on the California market.
---
What makes a health plan Catastrophic?
What we really mean by catastrophic coverage is protection for the really big bills.
This generally means less or no coverage for office visits, RX (brand name for the most part on the today's market), and perhaps lower labs until a high deductible is met.
The general aim of this type of coverage is to reduce monthly premium as low as possible and essentially "self-insure" the smaller bills.
This type of insurance makes increasing sense as a person gets older or rates go up...which is obviously the trend for all of us unless you've somehow managed to break the universals laws of time!
How do we evaluate the plans out there and determine if catastrophic makes sense and which plans best fit this approach?
Let's get into the actionable information for California shoppers.
---
Catastrophic health coverage is all about cost to benefit comparisons
When looking at catastrophic health plans, the best place to start is with the monthly premium and work your way up.
You can run your quote here:

Make sure to put in your income estimate for this year and # of household members (on exchange quote) to see if there's a tax credit available.
This tax credit would apply to the Bronze health plan as well!
Find the lowest priced plans across the market (ideally looking at a few solid carriers) and then find the sweet spot between premium and the all important deductible/out of pocket max.
This combination number shows your annual exposure in case you get really big bills (i.e. catastrophic).
It is usually per person, up to two people in a family for deductible and max out of pocket.
Some of the HSA plans may have a big family deductible that one person would need to meet.
So what's the important consideration when comparing the plans?
Let's say you have a $50K bill for a surgery resulting from an accident.
What's your total exposure in a calendar year? How much are you saving annually by going up the scale?
That's the trade-off...exposure to medical expenses versus annual premium savings!
Important Tip! The max out of pocket is virtually identical for the Bronze, Silver, AND Gold plan!
Generally, the max out of pocket includes the deductible in post ACA (Afordable Care Act) world so it's really Max that we want to focus on.
To make this easier, let's look at some of the best options to compare on today's market.
---
Current popular catastrophic health plans on the individual market
The ACA law has changed everything in terms of catastrophic coverage since the plans are all standardized by the law now.
For catastrophic coverage, you generally want to focus on the Bronze plan (either standard Bronze or HSA option) if you are age 30 and over.
For individuals under 30, there is a catastrophic health plan we can get....but
Generally, the premium savings between the Catastrophic plan and the Bronze is not enough to justify the limited benefits that the Bronze give you.
The bigger issue is that any available tax credit will not apply to the catastrophic plan but will apply to the Bronze!
Since the core Bronze benefits are the same across carriers, it then becomes a function of pricing and network.
You can quickly quote the ACA catastrophic bronze health plans on and off-exchange here:

Find out which "Covered California" networks your doctor participates with.
This is a big deal now. Hospitals as well.
You can see the providers through the quote above for a given plan but we're happy to help there.
Even if you buy off-exchange for Individual Family plans, it's all one network now for a given carrier.
You can ask your doctor if they take "Covered California" since they all know that name now and individual/family plans all use the same network.
What if you can enroll now (missed open enrollment and no special triggers such as loss of group coverage, marriage, birth, move, etc)?
What are alternatives to ACA bronze health plans?
There's always short term!
---
Short term health plans for catastrophic Coverage
An alternative to the ACA health plans is short term health coverage.
---
UPDATE: California banned all short term health insurance plans eff 9/1/2018.
Information below is for States that still have short term health carrier options.
---
Short term health bullet points:
Generally less expensive than ACA plans (unless you qualify for a tax credit)
Can enroll any time during the year
Must qualify based on health but generally simplified underwriting
May be subject to the penalty for not having coverage (if enforced)
Can only get blocks of time such as 3 months
Previously, we had IHC which partners with Blue Cross Blue Shield.
---
UPDATE: California banned all short term health insurance plans eff 9/1/2018.
In California we now only have sharing plans.

You can quote short term plans here.
---
Of course, we're happy to walk through the different options for your situation especially with the benefits of HSA funding.
Keep in mind that preventative benefits and maternity are covered under all California health plans (except for short term).
You can run your Catastrophic Health Plan Quote here to view rates and plans side by side from the major carriers...Free.
Again, there is absolutely no cost to you for our services. Call 800-320-6269 Today!