Medicare Plans in California - understanding Part D for medication with medicare
What About Part D for Medication?

We've covered the big pieces of Medicare and compared Advantage and Supplement plans that fill in the major holes in traditional medicare.
There's one more piece!
Part D.
Medicare and the supplement plans do not cover prescriptions aside from what might be administered in a hospital or facility setting.
As for outpatient RX (the kind you get from a pharmacy), there's no existing coverage in traditional Medicare for that.
Based on that gap, they created Part D.
Let's do a deeper dive on Part D so you understand how to get the best value out of it.
These are topics to cover:
What is Part D

How to quote Part D

What does Part D cover

How to check my prescriptions for Part D quote

How and when to enroll in Part D

Can I change my Part D plan (and when?)

Is there a penalty for not enrolling in Part D

What is the best plan for Part D
Let's get started!
What is Part D

Part D is a break-out part of Medicare that deals exclusively with medications.
It is separate from the other main parts of Medicare:
Part A - hospital
Part B - doctors
Supplements or Advantage plans (fills in the holes of Part A and B)
Medicare loves its letters!
Part D is optional which means you have to "opt-in" to receive it.
Read below to learn about the how's and when's with attention to the penalty for not enrolling.
Part D is the only way to get outpatient Rx covered with standard Medicare (most Advantage plans will include it by the way).
Part D is structured differently in that it's offered by private health insurance carriers, not Medicare itself.
Let's get into questions that come up frequently.
How to quote Part D

As certified Medicare supplements agents, we're happy to help with this process.
We're really excited about this!

Run your standard quote here and you'll be able to enter doctors and medications. You'll then get a quote personalized to you with the lowest total-out-of-pocket!

There's zero cost for this option or our assistance! More importantly, check out our google reviews.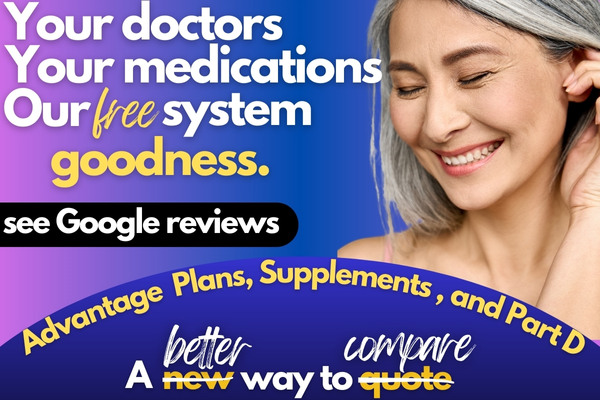 You'll be able to see:
best priced plans
carrier reviews
what medications are covered
favorite pharmacies
Advantage plans and/or stand-alone Part D plans that work with your situation best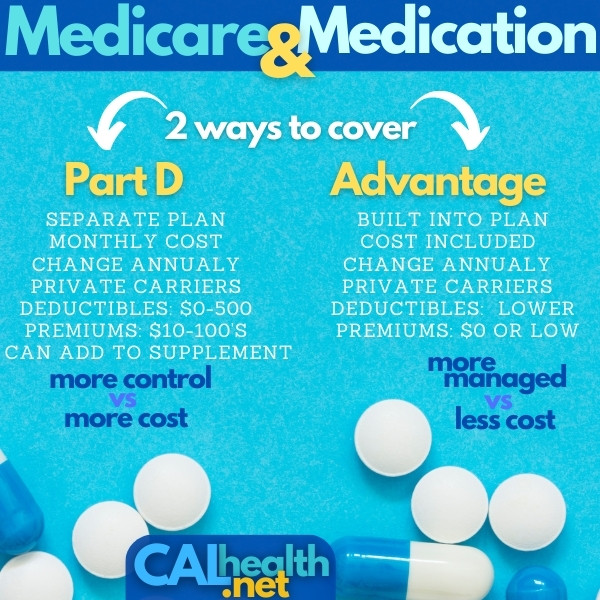 So....

What does Part D cover?
There was a set of rules established up front with Part D benefits...a blueprint if you will.
The carriers can work around these requirements but there are general groupings of plan offering.
Here are the key considerations:
Deductible

Copay Level

Major expenses
The deductible is really the big factor. It can range from zero to a few hundred dollars.
This is the amount you have to pay before benefits kick in (may apply differently to generic versus brand, etc so run the quote which takes this into account).
You then get a "menu" of copays depending on the type of drug (generic versus brand versus brand non-formulary which means...not on the "list").
These copays continue till a certain level where the "donut hole" kicks in.
This is a range where we absorb more costs until the max out of pocket is met and then the plan takes over again with richer coverage.
It's best to look at the quote and see how this actually settles out.
Another wrinkle is the list of drugs covered.
How to check my prescriptions for Part D quote

Even though the core benefits can be different, each carrier will have a different categorizing of various drugs.
One may say a drug is covered (brand formulary) while another does not (brand non-formulary or not covered at all).
This can have a big impact and it's why we need to submit your meds/dosages upfront with the quote.

The engine will literally take into account this info and work that information into the quote itself!
Very handy!
How and when to enroll in Part D

There are two major windows during which most people enroll in Part D:
Newly eligible for Part B; generally turning 65
Losing employer coverage
There are a few other less used rules so check with us regarding your situation.
Part D is unique also in that a person can enroll or change plans at the end of each year during an open enrollment window.

This window generally goes from Oct 15 to Dec 7th of each year.

Enrollment is easy.
Once you've decided on the best plan from the quote above, there's an "Add to Cart" feature from most plans ...all online and fast! Better yet, for open enrollment, your information is already there and we can update quotes AND plan selection for the next year after a quick update on meds/dosages!
This is all a free service we provide.
A similar question.
Can I change my Part D plan (and when?)
Yes! This is really unique.
We can change our Part D plan at the end of each year regardless of health.
The new plan will go into effect on Jan 1st from a change during the open enrollment window.
This option actually figures into the next question.
Is there a penalty for not enrolling in Part D
There is a penalty for not enrolling when first eligible.
It's 1% per month for the duration after you were eligible.
For example, If you're eligible Jan 1st (say 65th birthday is in January), and you wait till December to enroll (open enrollment window), you'll pay 12% (1% for 12 months each) more than if you would have enrolled back in Jan.
This can really add up (3 years = 36%) so a strategy is to get a placeholder plan.
A placeholder plan is basically the cheapest plan available (generally around $10-15) to avoid the penalty knowing that you can switch plans if RX kicks up at the end of each year.
Keep in mind that if RX costs go up mid-year, you'll be on the hook for that beyond what the cheapest plan covers but at least you have some catastrophic RX coverage.
Finally...the big question.
What is the best plan for Part D

We need to run the quote first with your medication list and favorite pharmacy factored in.
From there, we look at the total cost and the carrier ranking.
Keep in mind that the quote tool will take into account deductibles, copays, etc.
The combination of total expected cost and carrier ranking is our favorite tool to find the best Part D plan.
Most importantly, Star Ratings (from Medicare) are shown and included in the ranking.
We're happy to run it for you here. Make sure to enter your medications and dosages for the the free personalized quote.
It's a free service we provide to all our Medicare supplement clients.

We do not offer every plan available in your area. Any information we provide is limited to those plans we do offer in your area. Please contact www.medicare.gov or 1-800-MEDICARE (TTY users should call 1-877-486-2048), 24 hours a day/7 day a week to get information on all of your options.