California Medicare Plans
- How to compare Advantage Plans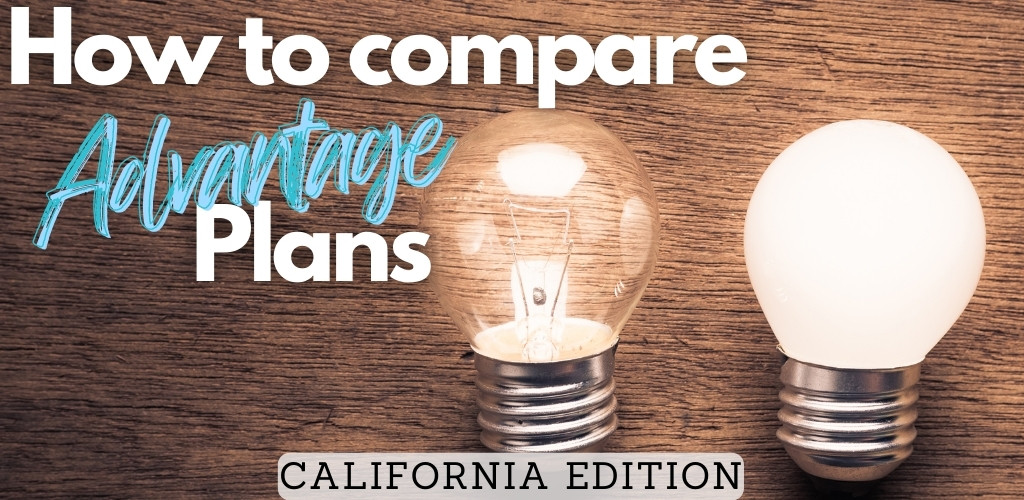 How to Really Compare Medicare Advantage Plans?

Okay...so the owl delivery scene from Harry Potter has become your house. Mailers and flyers with shiny seniors smiling away about this or that Advantage plan.
That's no way to make such a great big decision about health of all things.
But...how do we compare the different Advantage plans in your area?
Really get to the important stuff and avoid all the bells and whistles used to "sell" you.
Glad you asked and judging by our Google Reviews, you're in good company.
We're going to give you the insider's guide to comparing the available Advantage plans with a focus on the biggest and strongest (we'll explain why below).
Keep in mind that that is not a comparison of ALL plans available to you. In fact, there can be specialized Advantage plans in your area along these lines:
Dual eligible for medi-cal AND medicare

C-SNPs - plans for people with chronic diseases such as diabetes, heart failure, HIV, lung disease, etc

Institutional plans for people in long-term care

Local Advantage plans tied to medical groups or hospitals
And others!
From our tool, you can actually quote plans available from major carriers in your area and we'll explain how to compare them below!
See if the others pushing this or that plan do the same thing. Just one plan? Hmmmmm
Why do we focus on the 6 biggest carriers?
United (AARP)

SCAN

Anthem

Blue Shield

Humana

Centene (Health Net or Wellcare)
Advantage plans are HMO's (most of them) after all.
HMO's thrive with "big" by definition.
Big population areas

Big number of providers in an area

Big number of enrollees in an area
That's why it's hard to find successful HMOs in rural areas. Too sparse.
Here's the layout: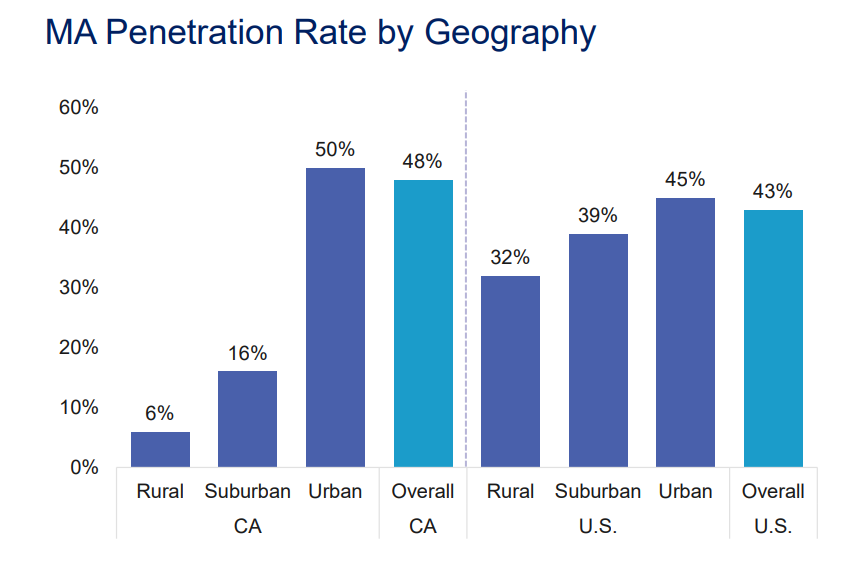 Why is this?
Advantage plans take a fixed pot of money and divvy it up for all the enrollees.
If you have 1 person that has huge medical bills out of 100, that's a problem. If you have that same person have a huge bill out of 1000 or better yet, 10,000....we're going to be okay.
Here's why this matters to you...
The more enrollees a carrier has in their Avantage plan, the more providers (doctors, hospitals, etc) they can generally attract. Again, the doctors need lots of clients to make this work for them too.
So..bigger enrollment leads to better networks and networks are one of two big considerations with Advantage plans (see the Trade-off between Advantage plans and Supplements).
Okay...big detour but it was important to explain to you why we're focusing on the big 6 above in California!
So...how do we compare our big 6 Advantage carriers?
Along these lines since the alternative is a medicare supplement generally:
Cost

Network

Care Flow

RX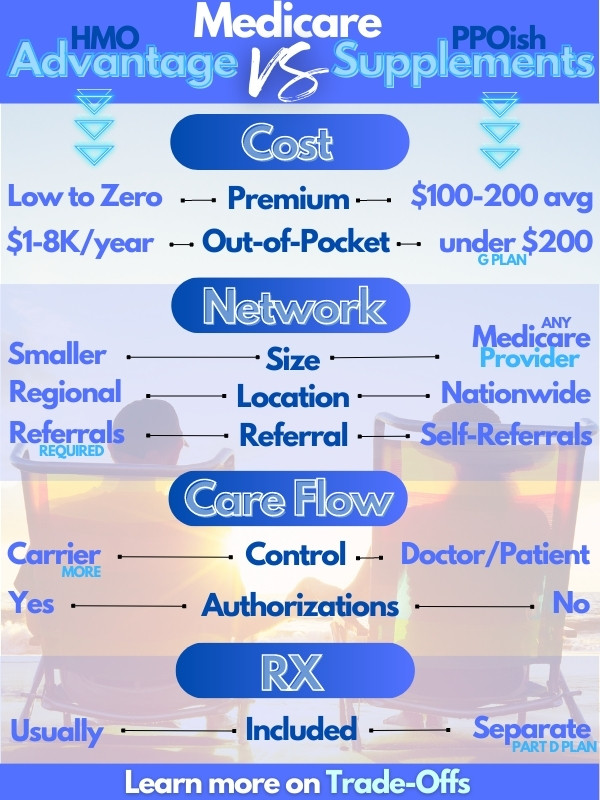 Let's get started! You can get rates on all of these side by side by running quote here and make sure to enter your doctors and medications so the quote is personalized!
We'll even pass along the secret tool to really understanding which way to go (OOP) from our Insider's Guide to Advantage Plans
Cost and Advantage Plans
Most Advantage Plans are low or no cost. We can usually find multiple options (depending on the area) with the sweet spot:
Zero cost per month

Under $1000 in OOP
The Out of pocket is the key! Don't fall for the sneaky bells and whistles on plans that have maxes much higher at $2K, $3K, and up to $8K.
Why?
Because a G plan supplement (the big alternative) runs around $1500-1800 annually (premium) for many people age 65 and it has very little out of pocket without the restrictions of Advantage plans.
Our Advantage plan should offer some savings in a bad year (high medical costs) to account for the restrictions. That puts our max out of pocket under $1K ideally.
Jot that down... "OOP under $1000". We'll use it when we run the quote.
Also, "Zero premium".
Again we explain this whole calculation at our How to Pick the Best Medicare Plan guide.
We can now compare the carrier options within this "Sweet Spot" for our area. That eliminates a bunch of different options and there should be multiple options.
Let's turn to what used to be a nightmare just a few years back.
Network and Advantage Plans
Comparing networks between the big Advantage plan carriers doesn't matter as much now.
You can just enter your doctors and our free quoting system will automatically show you the plans that work with them!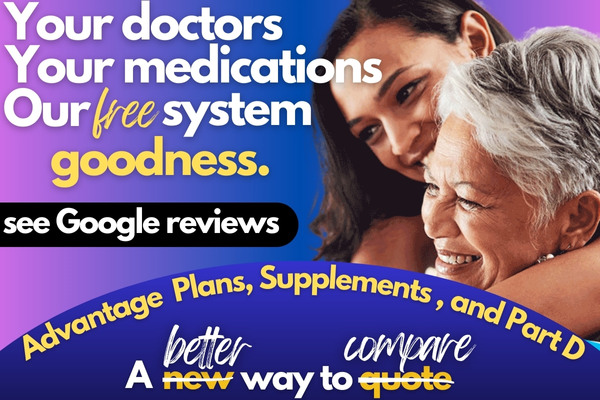 This is revolutionary and saves so much time and hassle.
Just run your quote and enter your doctors/medications with this dropdown: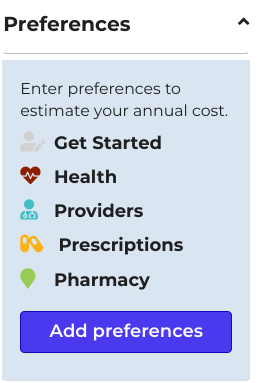 From that, a personalized quote with the plans who include your doctors will be sent to you!
Now we just zero in on the sweet spot (zero premium - under $1000 OOP) and we're half way there!
A few notes on networks:
HMO's generally require a primary care doctor or medical group

Advantage networks are based on a certain distance from where you live, generally around 45 miles

You must stay within the network for most services outside of emergency or special occasions

The bigger the enrollee base, generally...the bigger the network which is why we focus on the big 6

Kaiser is a whole different network all together; were focusing on Advantage plans that contract with private doctors/hospitals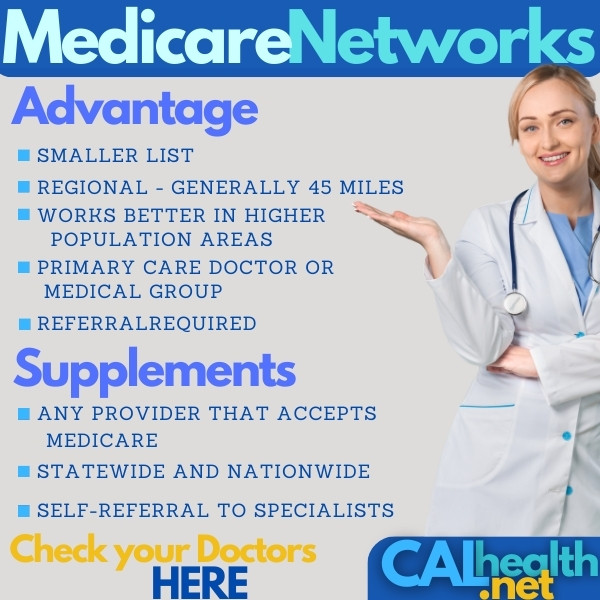 Reach out to us with any questions on networks or to request the link to enter your chosen doctors for a personalize quote.
Let's turn to the other big consideration with Advantage plans (after networks).
Care Flow and Advantage Plans
We're using this term generically for "control" over medical decisions.
By definition, HMOs like Advantage plans will have more say-so in how care is handled. That's how they work to contain cost after all!
This may be through a series of different approaches:
Step-care: requiring you to try less expensive options first

Pre-authorizations - requiring approval before certain procedures
It generally means jumping through a few more hoops for care but there can be a difference between carriers.
How on Earth do we compare the big 6 to account for this without actually being a member?
Hello Star Ratings!
Each plan has a consumer rating through Medicare which we reflect in our quoting system for you!
From 1 to 5 stars and it can be broken out between total plan review and even sub-sections like.
The sections:
Staying healthy: screenings, tests, and vaccines

Managing chronic (long-term) conditions

Plan responsiveness and care

Member complaints, problems getting services, and choosing to leave the plan

Health plan customer service

Our desire to tease out how they will handle care management is likely in category 3, 4, even 5.
Overall, if a plan is really strict on allowing care (too much), it's going to show up in the review and that gets updated every year!
It's our best way to compare if a carrier will strike a balance between care management and just good care!
Our quoting system will reflect the plan customer ratings so now we have three angles to compare the plans:
Cost - aim for zero premium

OOP - aim for under $1000

Customer Reviews - aim for 4 or higher
The "Triple Threat"!!: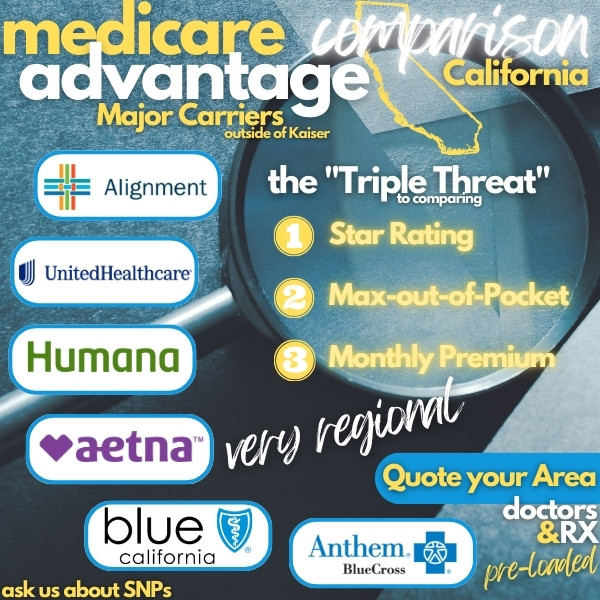 The numbers are dwindling!
One last stop.
RX and Advantage Plans
Like doctor searches, this used to be a real chore.
The "Formularies" or lists of drugs is different for EVERY carrier. How on Earth could we account for every possibility? We couldn't really. Not well.
Hello new shiny system!
When you run that quote, we'll send over a link for the doctors as mentioned above but ALSO your list of medications and dosages. All securely and private.

You can then run the quote for plans that work with your doctors and cover your medications!
The quote will reflect this subset of plans in your area that fit this requirement and then you can then see those with the zero cost/under $1000 OOP.
It's about as good a comparison as we can get in the world of Advantage plans and it's zero cost to you!
Check out our Google reviews to see how we help people understand their options and always feel free to reach out with any question!
If you need to understand more about the whole market, check out these guide:
Just a warning before we wrap up. (sounds ominous).
You're going to get ambushed by a slew of different plans and it's going to sound too good.
Watch out for lots of pushing of smaller benefits...copays, discounts, even money back to Social Security.
The plans get the same amount from Medicare per employee per month. It's a fixed bucket.
Some have decided to structure plans so that you get lots of smaller benefits right away.. Vision. Dental. Richer benefits on smaller bills (RX and office, etc).
It's a fixed budget so this "richer" set of benefits have to come from somewhere!
Make sure to look at the MOOP (maximum out of pocket). That's usually where the rubber hammer is hiding and it can be to the tune of a few $1000/year.
Here's the big secret you need to understand. Age 65 and older is the MOST expensive time to insure. Hand's down.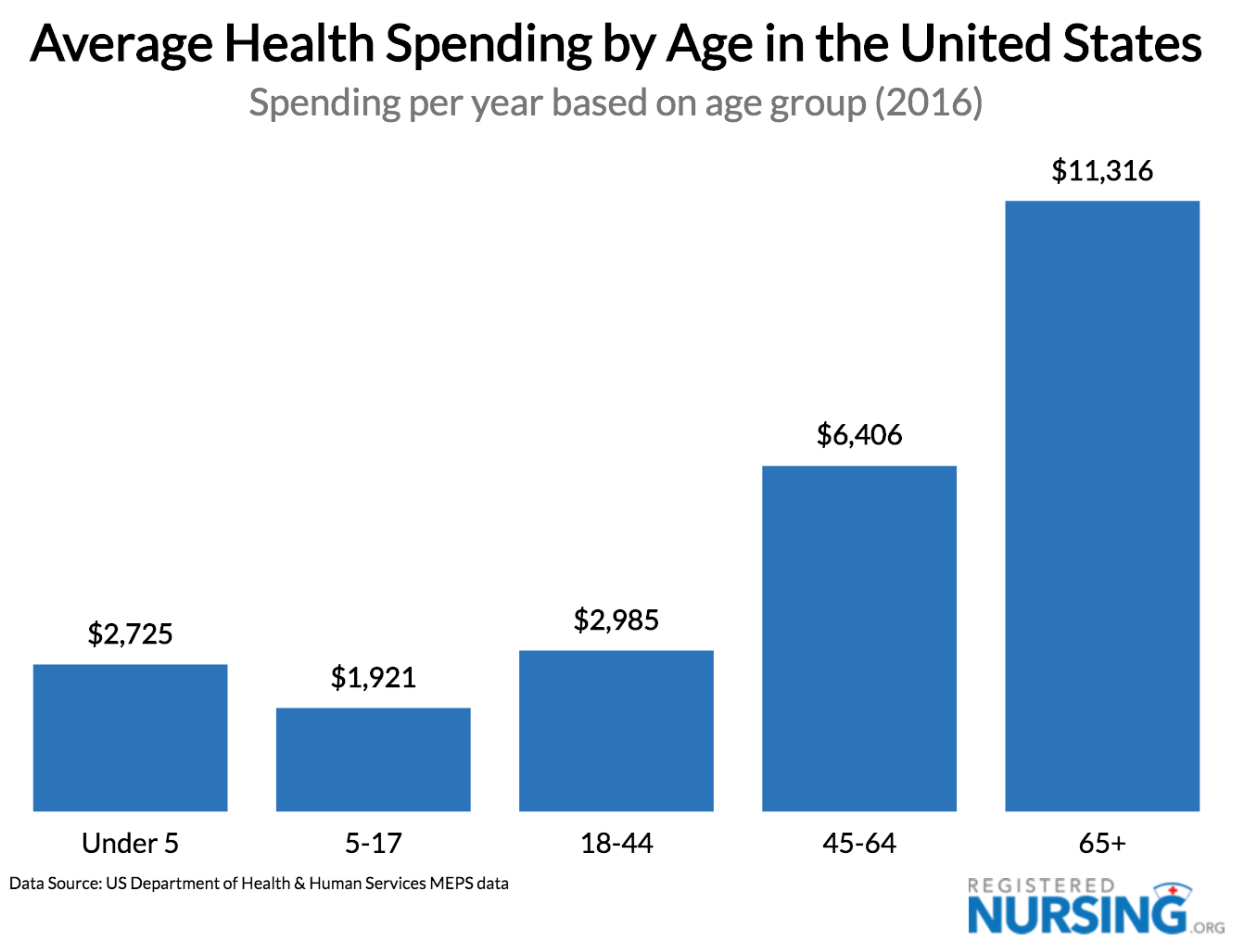 The chance of big bills (10's of $1000, etc) goes up with every year of your life even if you're in perfect health. It's purely a probability or statistical game and the carriers know this.
So...window dressing like vision benefit is cheap if they can share the back-end of up to $8K!
Don't fall for it and more importantly, question why there's so much marketing around it. You don't spend marketing dollars on a money losing product!
We go the other way. We focus on the real reason for health insurance that the carriers know very well....the big bill! MOOP (Max out of pocket).
Start there with premium around zero (otherwise, why not just get a medicare supplement), layer on your medications and doctors, and then compare away!
The Star Rating is the big deciding factor as it speaks to how "difficult" the plan is to work with!
The focus is on the biggest carriers by market share since they're most likely to have the biggest networks and that's a big concern with Advantage plans.
You're ready to compare away. Reach out to us with any questions and hopefully, we've earned your trust. Our services are 100% free to you. More important...

Call 800-320-6269 or email us at help@calhealth.net
We do not offer every plan available in your area. Any information we provide is limited to those plans we do offer in your area. Please contact www.medicare.gov or 1-800-MEDICARE (TTY users should call 1-877-486-2048), 24 hours a day/7 day a week to get information on all of your options.