California Medicare Options
- Guide and Review of California Special Need Plans including Medi Medi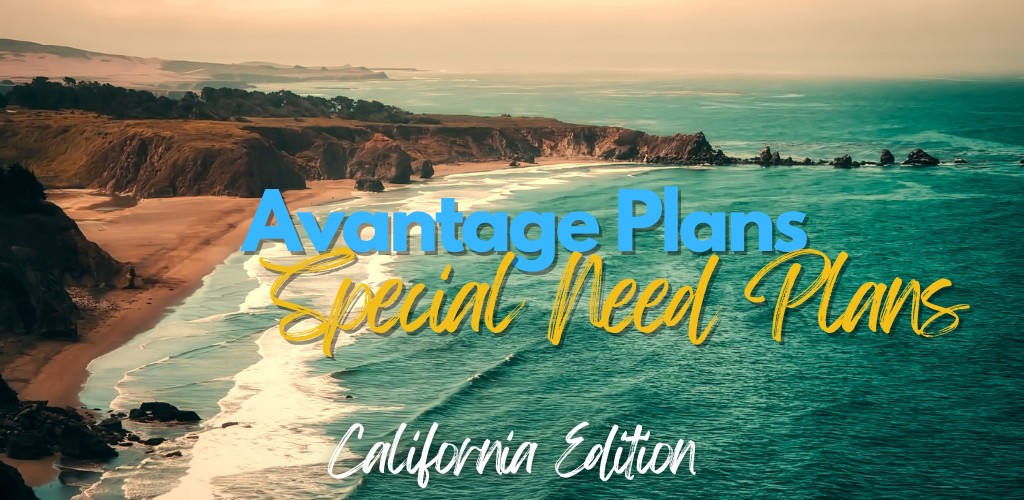 Navigating California's Medicare Special Needs Plans (SNPs): A Practical Guide
First, our credentials with 25+ years of experience in the California senior insurance market:
With that out of the way, SNPs or Special Need Plans are a big hit in the California Medicare Advantage market.
Just looking at Dual Eligible (Medicare and Medi-cal), you can see the impact: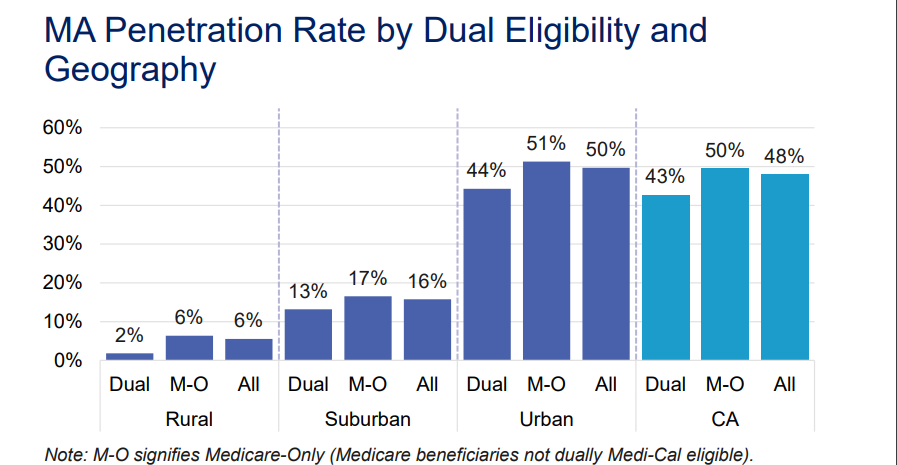 https://www.dhcs.ca.gov/services/Documents/OMII-Medicare-Databook-February-18-2022.pdf
In Urban areas, you have 44% of Dual Eligible people enroll in Medicare Advantage plans.
For 2022, there was 173K D-SNPs members and 78K C-SNP members.

https://www.kff.org/medicare/state-indicator/snp-enrollment-by-snp-type/
So...what are these plans and more importantly, what are pros and cons for actual enrollees?
Let's get into the practical side of understand how these plans work on the ground for actual people.
We'll cover these areas:

What are Special Need Plans in California
Eligibility for D-SNP versus C-SNP options in California
What are the Medicare SNP plans in your area
The pros and cons of SNP plans versus standard Advantage plans
How to quote SNP plans in your area
How to enroll in SNP plans in your area
Let's get started!
What are Special Need Plans in California
With the rollout of Medicare Advantage plans (see our Insider's Guide to Advantage plans), there were special carve outs for the following:

People with both Medicare and Medi-cal
People with chronic illnesses
People in an institutional setting
The plans were designed to foster more coordination of care from the providers and lower costs for the enrollee.
The end goal was better outcomes for people who have chronic diseases or who meet financial income requirements.
The I-SNPs are designed for people who are in institutional settings like nursing homes, etc.
For all three types,, there can be very low or no cost sharing (copays, deductibles, etc) for people who are eligible.
So...who is eligible for these plans?
Eligibility for D-SNP versus C-SNP options in California
We'll look at the big two types of SNPs since I-SNPs are usually addressed by the facility they are in from a practical standpoint.
For D-SNPs, it's based on different levels of help from the County all the way up to Full Dual status which means full Medi-cal and Medicare.
This typically is driven by income levels being under a certain threshold.
It's best to check with Medi-cal directly to see if you qualify here.
There's a good walkthrough here:

https://www.dhcs.ca.gov/provgovpart/Pages/Medicare-Advantage-Information-for-Dual-Eligible-Beneficiaries.aspx
There can be different types of help that allow for different benefits. Again, medi-cal can help you understand exactly what you're eligible for.
C-SNPs are based on having a chronic illness.
The most common are:

Chronic alcohol and other dependence.
Certain autoimmune disorders.
Cancer (excluding pre-cancer conditions)
Certain cardiovascular disorders.
Chronic heart failure.
Dementia.
Diabetes mellitus.
End-stage liver disease.
One note...not every C-SNP above may be available in your area and some areas have no C-SNPs available.
We'll show you below how to check your area.
A letter is sent out to your doctor to verify eligibility for the chronic illness designation as part of the C-SNP enrollment.
This is a general guideline but reach out with any questions to help@calhealth.net

What about your area?
What are the Medicare SNP plans in your area
This can really differ by area and as we saw above, urban areas are more likely to offer SNP plans.
On left filter, we can select by type of SNP plan:
"Chronic condition" versus "Medicare and Medicaid (Medi-cal in California)" is the key separation.
Let's run a sample quote on Los Angeles (90023 age 67; filtered for chronic conditions) to see what it looks like: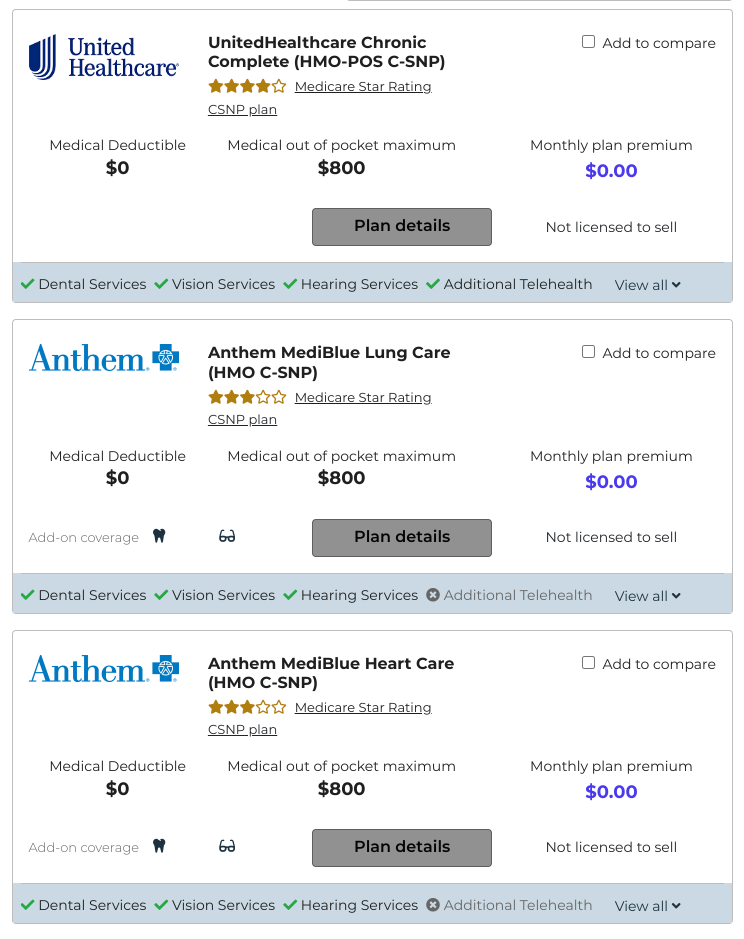 The first three plans show some distinctions in how the carriers are going about it.
United's plan is a general C-SNP while Anthem has different plans for different chronic conditions.
Of course, LA has some of the best plan benefits for Advantage plans which matches the standard plans (see Los Angeles Advantage plan guide).
Zero premium
Max out of pocket under $800
4 star or higher
One note...the max shows 800 but costs may be much lower if you're eligible based on the chronic condition eligibility.
Especially for benefits tied to your condition (insulin for diabetics, etc).
Even above, this matches our Triple Threat for Advantage plan selection: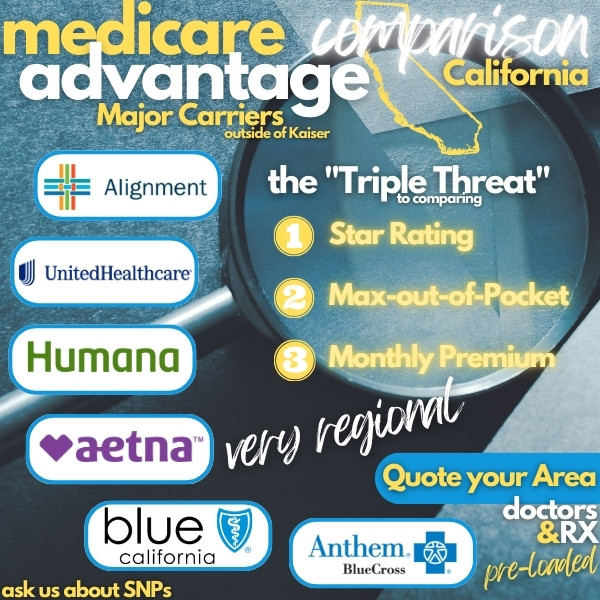 See how to pick the best Medicare Advantage plan.
Below, you'll see a Health net plan and another United one with a really high max out of pocket: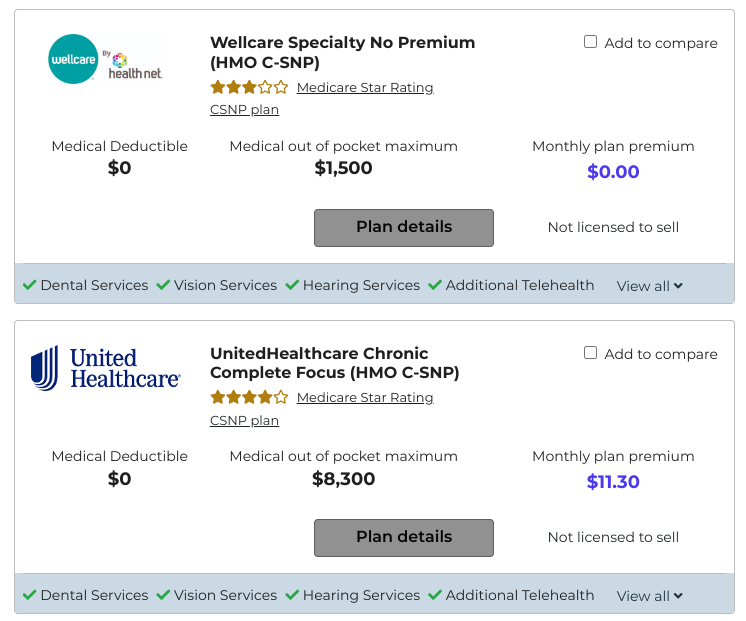 Again, the actual cost out of pocket can be much lower if you're eligible.
The Star rating is the big deal here and United clearly has the advantage (no pun intended there) if both plans cover your doctors and medications.
What about D-SNPs?
Here, we see a strong showing by Health Net by Wellcare in the top 3: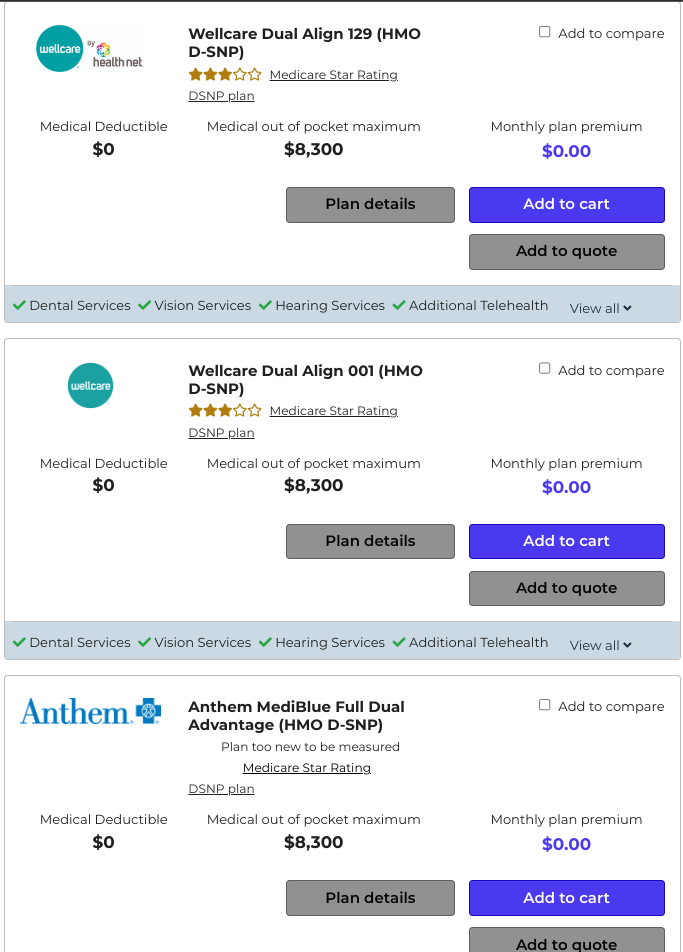 Again, the $8300 applies more if you're not dual-eligible. Otherwise, there can be very little out-of-pocket if you have both Medicare and Medi-cal.
Make sure to enter your doctors and RX as that's complaint #1 and 2 handled with Advantage plans.
Okay...so, how do we evaluate these plans versus Standard Advantage plans or supplements?
The pros and cons of SNP plans versus standard Advantage plans
So...this all sounds great. Are we giving up anything?
First, the pros are pretty well established from above.
Generally:
We will have less out of pocket, especially for our chronic illness with C-SNPs
We will have less out of pocket as medi-cal shares cost burden with the D-SNP plan
What are we giving up?
First, for the supplement comparison, check out What is the tradeoff for advantage plans versus supplements.
As for SNPs versus standard Advantage plans...
The main potential downside is that care is more coordinated on these plans which might mean you have to be more flexible in terms of providers you can see and how that care is administered.
Keep in mind that if a plan doesn't do this well, it will show in the Star rating which will penalize that carrier/plan over the longer term so it's in their interest to get this right.
So...the big take away with SNPs is to really focus on the Star Rating!
This reflects whether the "cons" outweigh the "pros" to actual enrollees in those plans!
It's the best indication we have of whether the implied intent of the SNP plans (to make their members healthier at a lower cost to them) is working!
In our situation above, that really points to United health if they work with our doctors and RX. United has one of the biggest (if not the biggest) networks in the Advantage market so that's a good indication.
That's a sample quote above. What about your options?
How to quote SNP plans in your area
You can easily quote the SNP plans in your area here:


Make sure to enter doctors and RX information (very important).
You can filter SNPs up top or via the filter on the left.
From there, we can quote the SNP plans in your area.
It will look like the results above and we're happy to help with any questions from there.
Check out our credentials:

What if you find a plan you like that works with your doctors and RX?
How to enroll in a California SNP plans in your area
Every been to Amazon?
We make this part super easy!
When you find a plan you like, you can Add to Cart and just enroll online for most major carriers!
It avoids all the delays and mistakes that come with the standard application process tied around paper and even telephone enrollments.
It's a much better system and much faster!
We're happy to help with the process at help@calhealth.net or (888) 496-9439
There's no cost for our assistance!
We focus on the biggest Advantage carriers outside of Kaiser.
SNPs are a special category of Advantage plans that are popular in California. If you are eligible, there can be significant out-of-pocket cost reductions for enrollees.

They work best in urban areas with strong networks to accommodate all the additional healthcare needs, especially for the C-SNPs.